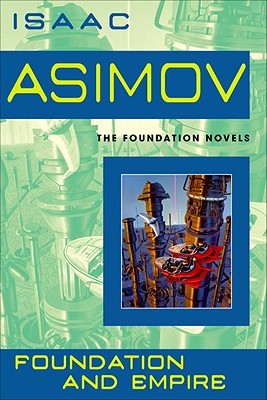 Foundation and Empire
Year: 1952
Author: Isaac Asimov
Length: 575 minutes / 9.58 hours
One of my qualms with the start of Isaac Asimov's Foundation series was how different the stories were from each other. Each was set in the same universe but failed to have much of a cohesive narrative that tied them all together. While Foundation covered five different short stories, its sequel, Foundation and Empire managed to whittle this method of storytelling down to two novellas. The result was a clear improvement in clarity and focus as each half of this book only covered a single plot each.
In Foundation and Empire, I finally was able to read a story that stuck with me in this series. Up until this point, I probably couldn't tell you the premise of any of the short stories in Foundation, let alone the plot of the first half of this book. However, once this book transitioned over from topics that were more in line with science into ones that had a more fictional bend, I found the narrative to be much more enjoyable. It's almost a shame that the whole book wasn't an exploration of the universe presented in the second half.
Even if it took a book and a half for me to warm up to this series, I could honestly say that "The Mule" piqued my interest and will likely contribute to my continued reading of the Foundation series. This was probably because this particular half of the book introduced a clear antagonist to the story. It's not that other stories in the series up until now didn't have antagonists, it's more that they weren't an individual villain up until now. Now things are getting interesting!
A natural evolution of Foundation and an improvement on its predecessor, I give Foundation and Empire 3.5 stars out of 5.
1/2